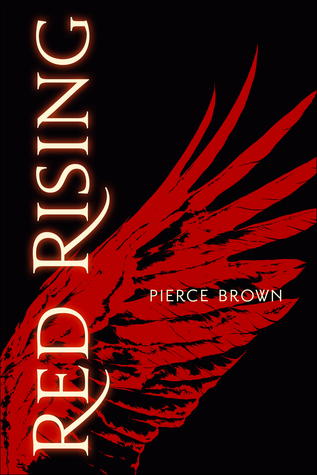 Yes.  It's all I can say about this book. So. Much. Yes.  It was the exact thing I needed to read to restore my faith in reading.  It was remarkably good and the world building was phenomenal.  It's definitely a solid start to what is going to be a thrill ride of literary genius.
Hold on to your gravBoots, kids.  It's going to get bloodydamn insane.
Here's the synopsis: "The Earth is dying. Darrow is a Red, a miner in the interior of Mars. His mission is to extract enough precious elements to one day tame the surface of the planet and allow humans to live on it. The Reds are humanity's last hope.
Or so it appears, until the day Darrow discovers it's all a lie. That Mars has been habitable – and inhabited – for generations, by a class of people calling themselves the Golds. A class of people who look down on Darrow and his fellows as slave labour, to be exploited and worked to death without a second thought.
Until the day that Darrow, with the help of a mysterious group of rebels, disguises himself as a Gold and infiltrates their command school, intent on taking down his oppressors from the inside. But the command school is a battlefield – and Darrow isn't the only student with an agenda."  – Goodreads
I have passed by this book before because like I've mentioned in previous What I'm Reading posts I'm not big on Sci-Fi and the YA genre can be filled with sketchy, formula-ridden plot lines and characters. I finally picked it up with hope in my heart and I was not disappointed.  This book was none of those.  Sure, it contains a dystopian theme (but this is set in space), super villains (who are still human), and an over arc of revenge and revolution, but it was so much more. There was savagery, the kind that gives you the mindset of, mother of God…….what just happened?!?! If you thought the Hunger Games was brutal Red Rising might just make you cringe a bit more and then some.
It's hard to describe but the world building is what makes this first book so complete. From the Red mines to the Carvers to the High Golds everything feels plausible and richly detailed without being overbearing.  The cast of characters was fantastic as well! You might not fall in love with Darrow but you will certainly find several favorites in the supporting cast. Sevro was my favorite along with Mustang so far.  I'm also in love with the parallels to ancient Rome and modern day.  It makes the book feel very much in the present.
Do not compare this to anything.  It stands by itself, firm in its conviction of being a damn fine original story.  It's worthy of buying (in hard back) for your book shelf.
Don't miss out on this one and be the last to read it. Join the Rising. Become a Son of Ares.  READ. THIS. BOOK.
HIC SUNT LEONES!
p.s.
I've just discovered that Pierce Brown negotiated a movie deal for the first of his Red Rising trilogy sometime last year.  I can only speculate that he will make sure the story is told as it needs to be since he'll be editing the screenplay.  There's no release date as of yet, but keep your eyes peeled!