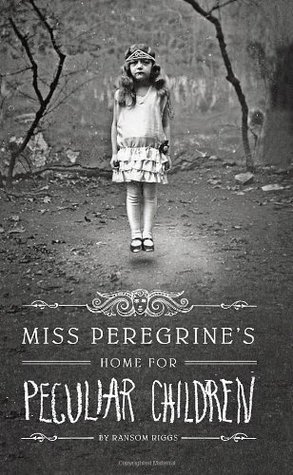 What can I say? This book did not live up to its hype.  This is a huge disappointment for me because typically I don't read much contemporary urban fantasy books in the Young Adult section.  But let's be honest.  There's alot of fierce competition in the YA genre these days.  There's the insane popularity of Harry Potter, closely followed by the Hunger Games and Divergent so it's no wonder there's quite a high bar to jump over to become immortalized.  I thought Miss Peregrine would soar over that bar with ease, but alas, it flopped.
One of the weirdest things about the book are the vintage photographs sprinkled in between the pages. It appears that the majority of those pictures are, in fact, real.  Does that up the creepy factor to the rest of the story? Yes and no.  After awhile I got kind of annoyed and bored with all of the pictures.  I just wanted to imagine the scenes and people myself, not have kitschy, non-smiling people forced into my mind.  It's like the author couldn't quite figure out what kind of story to write, found a bunch of weird pictures and wrote a story around the pictures.
That's not overly original when it comes to fantasy novels.  Though most authors who do incorporate artwork in their books usually leave out their interpretations of who so-and-so looks like to them.
It felt like a picture book of a freak show and did nothing, in my opinion, to further the plot or the character's story lines.  It hindered it.
It wasn't a long book by any means, but it still took me nearly 2 weeks to plod thru it. As far as Ransom Riggs' first novel goes it was pretty ok since it was his first book (and he's not writing for grown-ups so the critics aren't as harsh), but it was hard to figure out what audience he wanted to appeal to (young adults or tweens) and just what he was "going for".  It wasn't a very scary story, it wasn't a fairytale, nor was it odd enough to freak you out if you read it before bed time.  Like so many others have said it does feel like a rehashed story of X-men, only not as grand or complicated…..or awesome.
I was expecting something truly unique and peculiar with Miss Peregrine and instead I all I got was weird dreams and the vast feeling of being underwhelmed.
There's a second book out that continues the "adventure", but I won't be bothering with it.  I have a hard time picturing how this is going to make a decent, profitable movie, but maybe in this instance the movie will be better than the book.